The Ritz-Carlton will lanch 46 new hotel projects worldwide
Our Admin
2017-11-08
3596
The Ritz-Carlton Hotel is world famous hotel brand.With the strong growth of tourism in the past ten years,it accumulates a lot of wealth.Now company make new decisions that 46 new high end hotel will be launched this year.Thereinto,26 hotels are in Asia-Pacific area ,and 6 are in North America area. 21 new hotels will be opened before Jan,2018.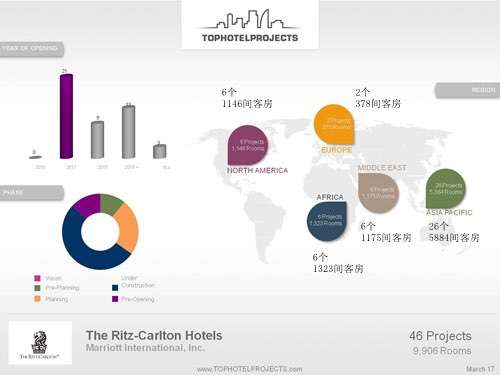 As a famous high end hotel service supplier,The Ritz_Carlton hotels ,under the jurisdiction of Marriott International,will push 9906 new rooms ,which will increase its international influence worldwide.And it will also be good news for China Hotel furniture factories.
Following other big brand step,Ritz-Carlton decide to invest big amount capitals to the ever increasing Asia-Pacific market ,in which Ritz_Carlton will launch 26 new projects with total 5884 guest rooms.However,North America market has laid solid foundation for the Ritz-carlton hotels,the Ritz-carlton group will increase 1146 guest rooms.Benefiting from 6 new hotel projects, Middle ease and Africa also will increase 1146 new hotel rooms,which will supply 1175 and 1323 rooms respectively.In Europe, two new hotels will be added ,supplying 378 new rooms.
For Ritz-Carlton, 2017 is destined to be very busy.21 new hotels will be opened before Jan,2018 and 9 new hotels will be opened in 2018.At present, half of all the projects are under construction ,and one fourth of them will be completed in 2019 or 2020.,
Some project should be paid more attention to by China hotel furniture factories.For example, the first Ritz-Carlton Villa Resorts in Jiuzhai Valley is one of them,which is designed by Jaya ,a exceptional talent in hotel design industry.This project\'s construction area is 35833.3 square meter.Hotel public area has four floors including lobby, restaurant and meeting.Thereinto,two floors are for Swimming,Massage and gymnasium.This project has independent villa 87 sets,among which 1 bed room villa is 70 sets with square meter 145.75 and two bedroom villa is 15 sets with square meter 223.79.three bedrooms is 2 sets with square meter 414.94 square meters.
  To China hotel furniture factories ,2017 will be good time for them to study these projects and exploit their own advantage to the full to get these projects.