Tea room Furniture is entitled with Zen Culture
Our Admin
2017-11-10
5608
Tea is the indispensable part of Chinese life,which can be a fragrant quenching drinking and also best companion when chatting with several best friends.Tea is a profound professional knowledge and also media making you dialogue with your mind.Chinese word is the carrier of national culture,which is one the oldest hieroglyphic,which is the perfect combination of form and meaning,bearing unique charm and making everyone close to him relaxed and happy and produce boundless reverie.For the Chinese word for tea 茶,upper part means tea and it is basis ,human is at the middle and he is center,at the bottom is wood and means furniture is the bearing.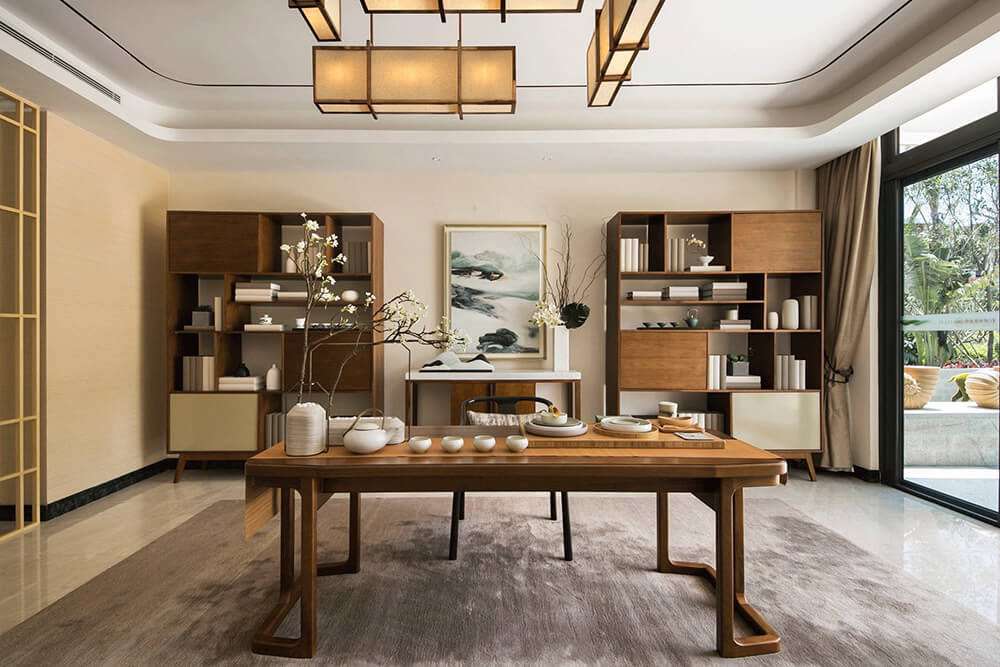 Just combination of three words conveys thoroughly the artistic conception 'Water,Wood,Tea,Fragrance,Tenderness'.However as the carrier of tea culture,the tea table plays a import role of linking and supporting.It creates a unique artistic conception by linking the drinking person and the tea furniture.
Wood is the carrier of tea meaning.In the chapter two of 'The Classic of Tea',tea ware is mentioned,which means what kind of tools and equipment are needed.From this, we can know that how important the tea furniture is.Therein,wood table with Chinese classic charm is most important.As the carrier of drinking person and other tea ware,tea table is the indispensable part of tea culture.Whether you taste the tea by yourself or drink tea with friend or treat guest with tea,a good tea table can help a lot to the tea artistic conception and also make that moment full of delight,conveying the taste of the host and bring a lot of fun to life.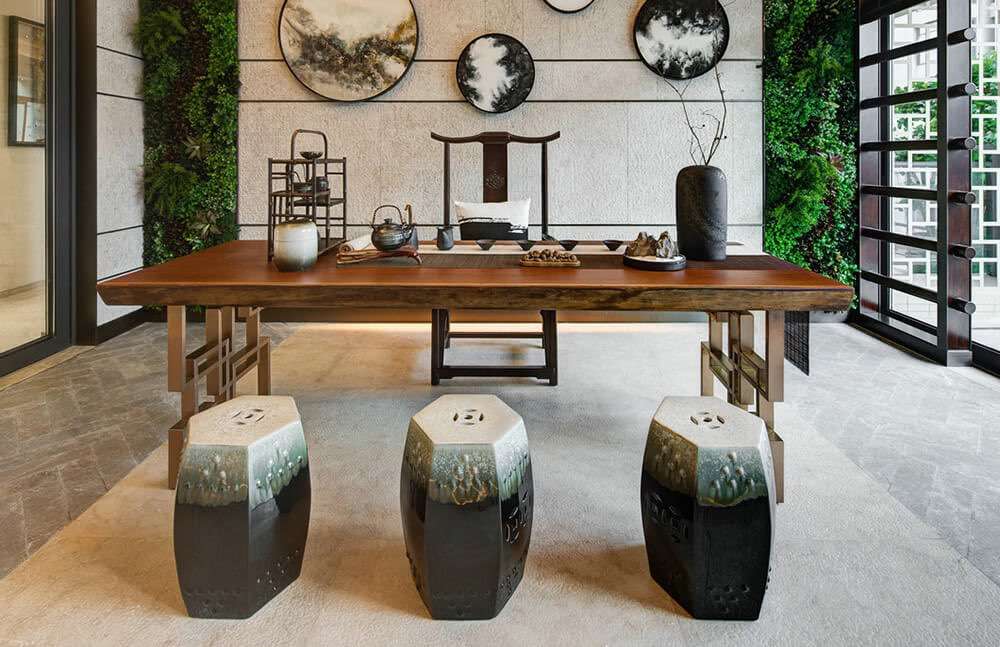 There are many tea tables.Some is rough and straightforward which is bold and unconstrained full of natural flavor.This kind of tea room table is not apt for the small and closed space.It should be put in half open or open space.For example the tea table made of rough old elm appealing both to refined and popular taste.Hard woodiness and grand texture show its tenacious character and broad mind,winning universal acclaim and admiration.The other such as Ming style tea furniture enjoys high reputation both at home and abroad for its elegance,simplicity,practicality,grace.The new Chinese style tea furniture such as rosewood series and old elm,apt for close small space,creating a warm,comfortable space with exquisite sense and style.
In a casual afternoon,one sits before the tea room table alone,with a old lyric song.Mind is relaxed gradually inside the fragrance of tea,noise of this world is becoming far and faded by listening the dancing of time and watching the ups and downs of the leaves.At this moment, the best time is just around you and touchable.Also you can drink green tea in clear spring water with ceramic tea set,,together with several friends.Talking about life,discussing about things,you can relax like that for half day ,but feel you have spent ten years of happy life.So that tea room table and chairs create a new free world owned only by you and your friends.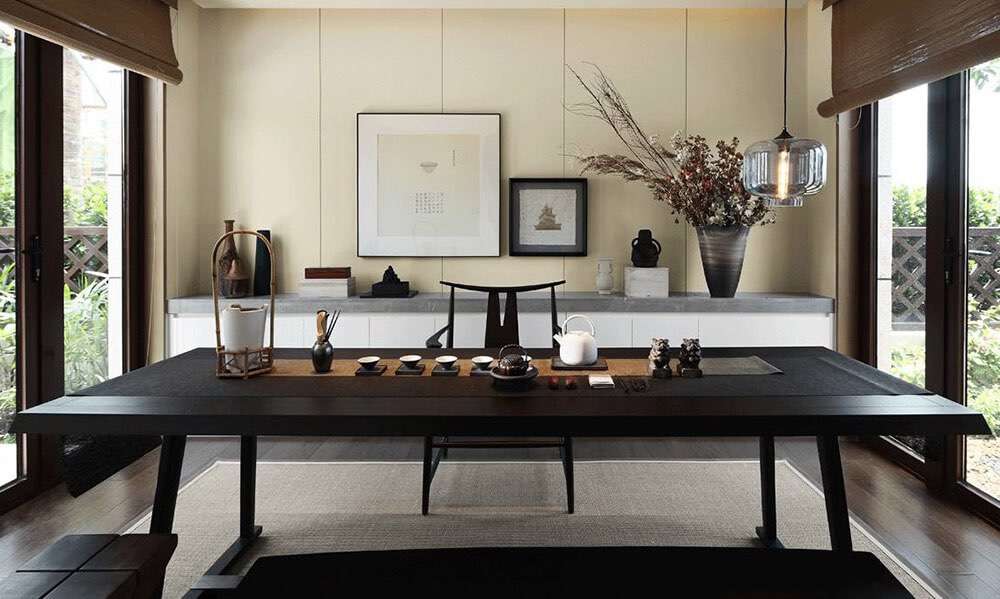 The tea word 茶 looks simple with very deep meaning.Just several strokes depicts teaism vividly and powerfully.This is the artistic conception of 'Water, Wood, Tea Fragrance, Tenderness' such as the tolerance of water,the flavor of tea,the releasing of the fragrance,the mood of the tenderness,which if you taste it carefully,you can find that it lasts a long time and stays everywhere.Facing the change of this world with the mood of tasting tea,you can feel calm and quiet,unmoved by the gains or loss.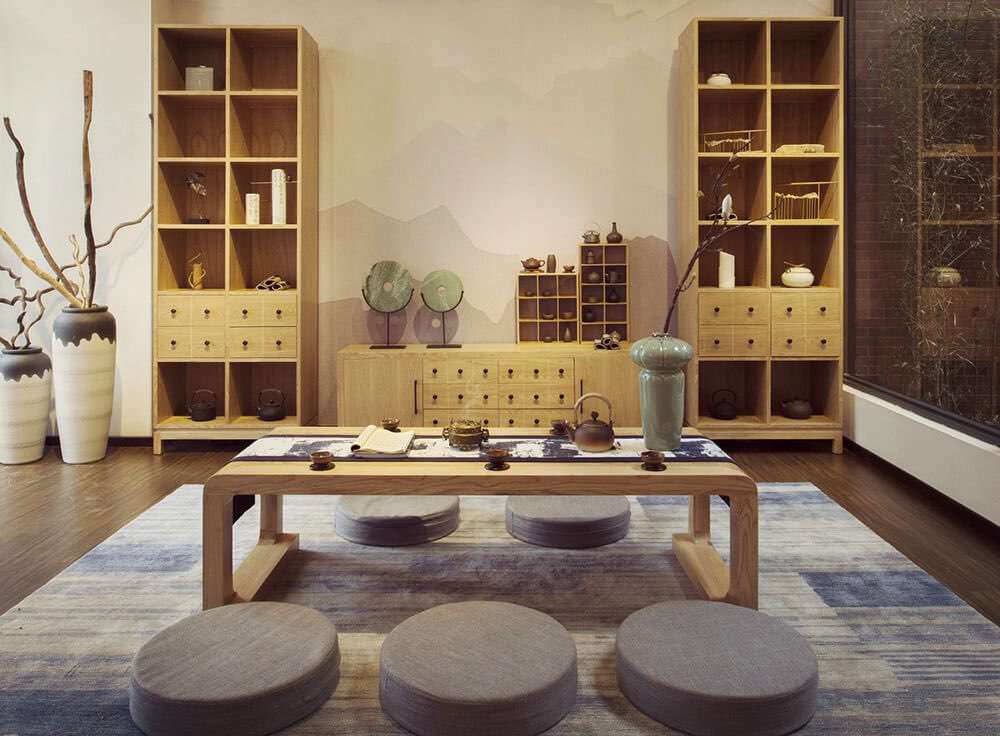 Especially in south China such as Guangdong province,almost every house ,every factory,every company has a room for tea inside which one set of tea table and tea chair stand.Recently tea culture is mixed with Zen culture.The tea room is generally designed with a Zen atmosphere ,also the furniture displayed inside is also called Zen furniture.That means, furniture is endowed d with some culture meaning.But actually the tea table and chair are just improved from wood dining table and wood dining chair.As a professional custom home furniture maker in Guangdong province,Artech has rich experience in making tea table with chairs after studying the culture of Zen and tea culture.