Double Furniture Exhibitions Ended Perfectly In Pudong,Shanghai
Our Admin
2017-11-10
3830
On Sep.15,2017,the 23th China International Furniture Fair and Modern Shanghai Fashion Home Exhibition ended perfectly in Shanghai Pudong Exhibition Center and World Expo Exhibition Hall.All the exhibitors from home furniture maufactures and furniture design company were very happy after the close.
This year, the number of visitors reached record new high.According to the updated statistics after the close,the Furniture Fair and the Modern Fair received total 151,588 visitors from 155 countries and regions within four days,increasing 26.3% compared with last year.The number of overseas visitors rises exponentially,up to 17,129,grows 26.3% year on year.The surprise is the visitors for Modern Fair which has been held only two times reaches 41,374 with a increase of 69.3% year on year.It has to be admitted that the Furniture Fair and the Modern Fair verify the spirit of 'Be The Best' from Shanghai UBM Sinoexpo International Exhibition Co.,Ltd. by providing wonderful content and visitor service.Following the rhythm of the exhibition,the visitors tasted the home products from all around the world.Experiencing more than 40 brain storms with clusters of biggies,Pudong double home exhibitions did brought infinite surprises to visitors.Mr Zhang, from Houwei furniture factory who mainly produce solid wood dining table and contemporary dining chair comment on this fair,\'Although we do not get many orders, but we really make many friends and get so many information about the material\'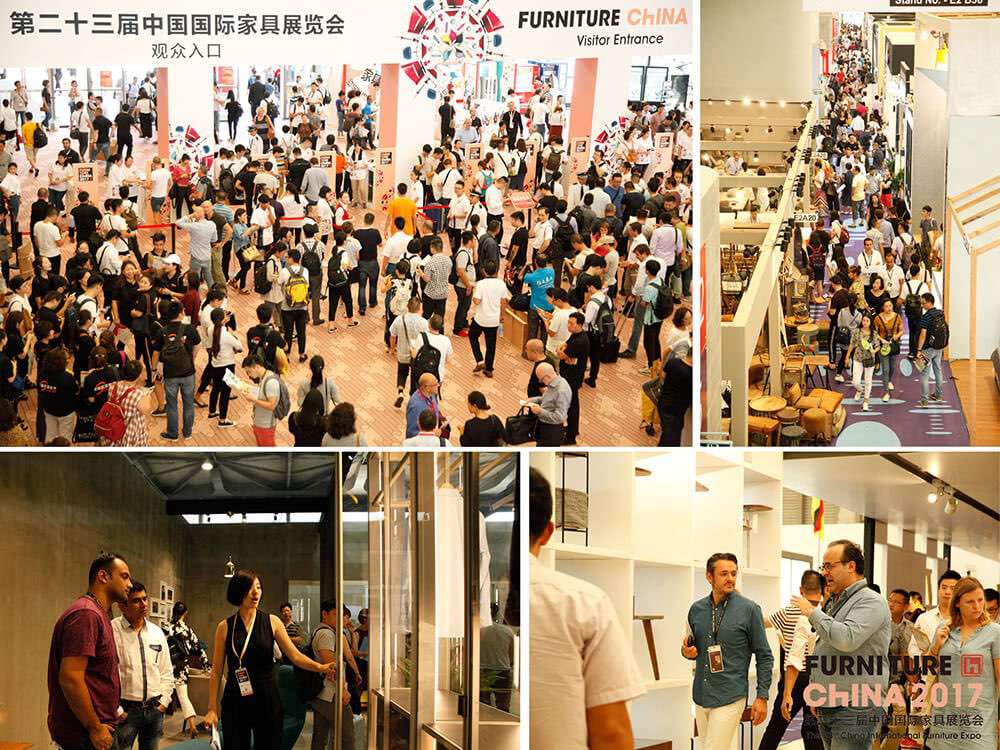 The journalist of Beijing Youth Daily who visits the fair each year wrote in his article,'This comprehensive furniture fair undergoes subtle changes each year.The convenience for visiting is improved each year and the layout of the exhibitors is reasonable and balanced.The most import thing is the participating brands(no matter they are home furniture maker or commercial furniture maker) take the fair as the annual arena which highlights the competition on design and quality.The fair can not missed if you want sense the latest and most'in' home furniture trend.
Rooted in Magic City,Shanghai,the Furniture Fair growing in international metropolis has been the signpost of China furniture Industry.In the international brand hall, the brands,up to 225 from 26 countries and regions including France,Italy,America,Britain,Korea,Belgium,Malaysia and so on clustered.Uniting 12 France high end furniture brand,France exhibition group stroke a pose with amazing grace.International famous brand such as Ligne Roset,Demeyere,Symbiosis and so on attended with a scheme of 'My Furniture Is French'.The exhibition products included living room furniture,bedroom furniture,outdoor furniture,kids furniture and so on,which fully showed the life space and life style of French.Italy government also dispatched more than 20 Italy furniture brand to Pudong.Besides the whole home products,there were also brands of decoration and lighting,either luxury classic furniture or modern simplicity furniture.All these fully showed the top good Ital-made products to visitors.The brand from German,MCA showed rustic style furniture full of wood aroma,tough and rustic.The brand Actona and Soulliving from North Europe brought newest home products of Scandinavia style,making youth not help stopping and admiring.
Some furniture experts commented on China furniture design,'In China furniture circle,the situation 'No design,No Survival' has been formed.Indeed,annual hot original design hall can see it.100 brands of original design tried their best to publish the new technique ,new design and the new concept about lifestyle in recent one year.Medias also clustered,aiming their Canons to good design and good designers who were seldom seen.
Following the brands of TangTang,Fabio published in 2016,in 2017,ExpoCasa published the fully new brand 'Now&Future' which was full of sense of future fashion,performing a magnificent 'Reborn Space'.Its works won unanimous recognition from the judging panel of the Gold Idea Design Award and it received the Gold Idea Design Award of 2017,which attracted tremendous attention from furniture circle.Dickson Furniture wining the prize last year published a series of new gorgeous but unassuming private custom home furniture:'Sunrise Phantom' whose color configuration with rich sense of hierarchy was eye-catching,revealing the pure reflection to nature from Liang Shaoxi ,the founder of Dickson Furniture.Roling Furniture made a big movement this year:fully new brand 'Liangchen' combining the strong design gene of Liang Jianguo and Zhou Chenchen ,taking 'Integrating East Into Simplicity' as design concept,whose products was simple and fashionable expressing the modern Chinese lifestyle,received the annual golden award of organizing committee.Entirely new works of Qumei Home:Fancy Living Museum was released first time,which included high end custom furniture and solid wood boutique.Its designer power is amazing.....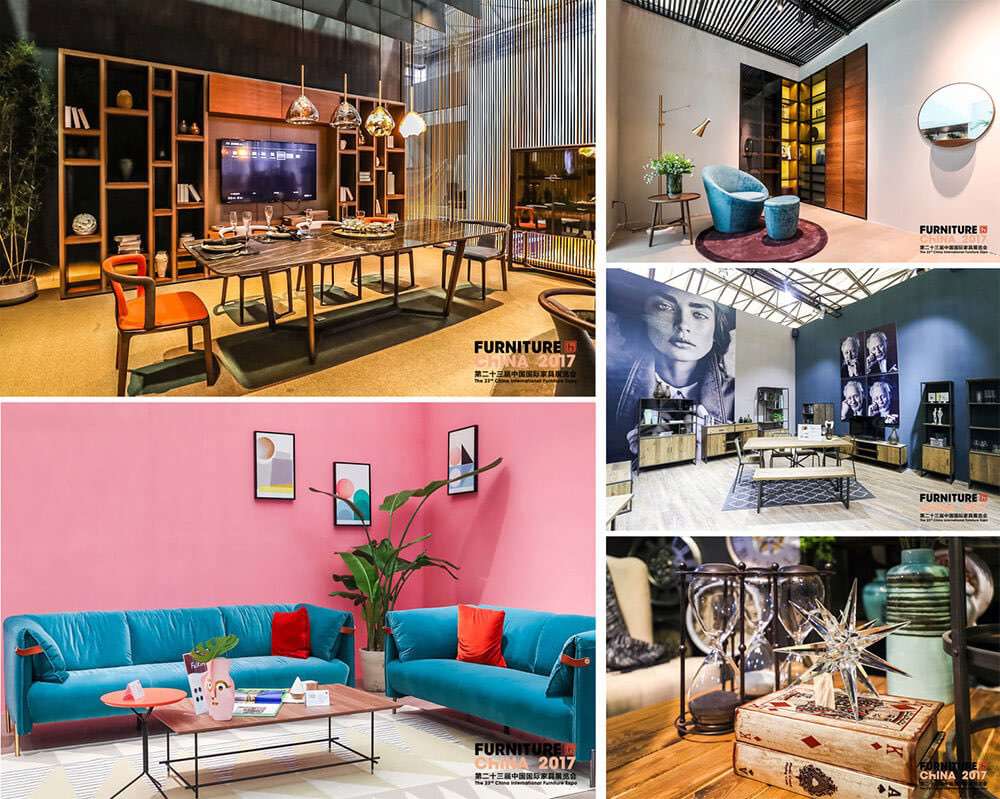 Good furniture attracts the professional business men.The founder of Xue who has the global leading 3D bending technique,chief technologist ,Xue Shuping released that Xue ,which had been exporting and just sometimes supplied consultant service to some hotel furniture factories would open franchise shop in China.There are so many distributors who want to be agents of Xue,which made him fell very confident.He indicated,'Since so many people want to be our agentst, i have chance to choose city and location'.
Not only the new product launch,with the high popularity of this exhibition,many home furniture brands held series of design activities spontaneously,inviting design biggies,communicating with the fans on spot,imaging the beautiful lifestyle.The dean of Qumei Home Chinese lifestyle research Institute ,Yin Zhixian invited Yang Minjie,Song Tao,Yuan Yuan,Dai Di and other designers to have a dialogue about 'Ration and Emotion' and discuss about home industry's predicament and way out from the different dimensions of art,design, product.Treca invited famous designer Liang Zhitian to hold a designer exchange meeting in the new international south hall.Mlily even invited the legend football star of Manchester United Sika El Silves to land on Shanghai and share the quality sleep with China football fans.
This time the most important activity of the Pudong Fair is the launch of 'Color.China Home'.Since the professor of ENSAD,France famous color expert,color design master Jean-Philippe Lenclos,Song Jianmen,professor of China Academy of Art designing the 'China Red'of China Museum and also professor attended this event,a lot of professionals were attracted.The chairman and founder of Shanghai UBM Sinoexpo International Exhibition Co.Ltd said,'following the exhibitoin of 'Designer works Exchange DOD Exhibition' and 'China Good Sofa,China Good Fabric,China Good Material' launched by China Furniture Association and Shanghai UBM Sinoexpo International Exhibition Co.,Ltd,this activity is the most important with big significance,which means China furniture industry has its own platform for publishing fashion trend as fashion industry does'.
China furniture design aims to high end,so each detail can determine success or failure.Each step such as Material,technique play very important role.This year the breakthrough of furniture fair directly relies on high end funiture manufacture.The 23th China Furniture High End Manufacture Fair updated comprehensively ,which stood at upstream of furniture industry,brought together leading brands and high end furniture products in global furniture industry and helped China furniture industry move toward the road of high end manufacture.Especially China International Accessory And FMC Premium 2017,as the exhibition inside China high end furniture manufacture fair,expanded the exhibition area doubly,covering whole hall N5.American Hardwood Export Council,American Softwood Association,French Timber And Wood Products Export Association,Canada Wood Association,Quebec Wood Export Bureau,with international famous board brands tried to enter into China market.High end material enterprises were also among them such as ,Kaidi,Limoss,Emomo,Hengfa,Zhuokai,Gunaite,Julei,Easyhome Homestyler,Tubaobao,Yihuang,Aoshi Wood,Kingdecor,Dilon,Beijiali,Burgeree,Jimeite,Ligu Leather,Carpoly Paint,Akzonobel paint,Mingshida Paint,Changrunfa Paint,Yuanye Glue,SABA,Maya Texitle,Chinasia Textile,Aumerry Textile,Hangzhou Meixin,Tianyejacquard,Baifu Textile,PGM,Zhijue,Junkai and so on.These brands strung complete furniture industry chain,fully satisfying the purchasing demand from the enterprises upstream and downstream.
The Shanghai Fashion Home Fair ,which shown up two times,made amazing progress.Its exhibition area grew up to seventy thousand square meters and it opened for the first time the whole halls of the World Expo Exhibition Center,in which more than 500 exhibitors forged excellent home scenes and more than 40 rich and colorful activities made visitors enjoy themselves so much as to forget to go back home.According to the updated data after close,The four days exhibition received 41,274 visitors,increasing 69.3% compared with last year.Modern Fair is really 'Has Mo also Has Young'.
' Modern Home Decoration' delivering 'Aesthetics of Home'in Hall H1 and Hall H2 was optimized decoration fair moving from New International Exhibition Center,which formed the layout that includes lifestyle design brand,home decoration,art&craft,decorative pictures,Carpet, floriculture and aromatherapy,textile,lighting and other categories,satisfying the one stop purchasing demand for interior decoration.
'Modern Block'in Hall H3 was the the comprehensively updated exchange for works of DOD designer.This year, more then 200 exhibitor brands(from home furniture factories and custom hotel furniture factories in China) attended this fair with more than 300 designers, reaching record high. .As an exhibition with the reputation of incubator for China original design ,the design power was amazing with DOD designers winning 6 of total 15 awards from Gold Idea Design Award
'Design China'in Hall H4 was the block launched by the host China Furniture Association and Shanghai UBM Sinoexpo International Exhibition Co.Ltd uniting China National Interior Decoration Association,which included Home Plus(designer furniture),China wind(New Chinese style furniture),Design Dream Show showing contemporary home furniture trend and concept,2017 China Interior Design Week with 'Design'Sharing' as scheme.All these exhibitions were the aesthetic trend project emphatically forged by host with a extraordinary significance.The Chairman of China National Interior Decoration Mr Liu Yu said in his speech,'This cooperation marks the integration of interior decoration and furniture industry ,interior design and home design,really make great efforts for the development and promotion of home furniture industry.\'Also he added that whole house custom-made furniture manufacture would have good opportunities.
Besides,China Home Design Conference and the Night of Designer both took 'Taste color.Share Design' as the scheme,pushing the hot atmosphere to the climax.At the China Home Design Conference,not only designers from Home plus such as Wu Bin,Zeng Janlong,Liang Jinhua,Meng Ye,Shen Lei,Xie Ke,Chen Dejian shared the viewpoint of color but also famous industry designer Stefan Diez showed strict and interesting design concept of German designers,while 'The Road of Color Designer and Color Life' shared by French top best designer,Professor Jean-Philippe Lenclos became the compulsory class of all the designers on spot.That night,many biggies clustered at the Night of Designers.All the honored guests,designers and medias gathered happily in a hall,announcing three awards 'Gold Idea Award','Innovation Award'and 'Modern Attitude Figure'.Annual gold award of Gold Idea Award organizing Committee attracting much attentions was won by Roling Home Finishing,who won the unanimous recognition of judging panel.
Have to say,this year, the double home products fairs in Pudong furnished the visitors and exhibitors too much surprise while good response from exhibitors(Home furniture makers and commercial furniture maker) and visitors also brought countless touch and infinite driving force.From Sep.11 to Sep.14,Shanghai Pudong New International Expo Center and World Expo Exhibition Center will meet you at that time.Don't miss it.